Michael S. Green
Attorney at Law
In light of the current circumstances we are available for videoconferencing and remote work. Give us a call today!
Providing Excellent Counsel
Michael S. Green, Esq.
Mr. Green is the founding member of the firm with 18 years of litigation experience. He has successfully represented hundreds of individuals in divorce and family law. He is a member of the bars of the State of New Jersey, the United States District Court for the District of New Jersey, the United States Court of Appeals for the Third Circuit, the United States Court of Federal Claims and the United States Supreme Court. He is also a member of the American Bar Association (ABA), the New Jersey Association for Justice formerly the Trial Lawyers of America (NJ-ATLA), the New Jersey Bar Association and the New Jersey Middlesex County Bar Association. Call us now for a free consultation at 732-390-0480 (East Brunswick Office) or 201-242-1119 (Fort Lee Office). We are available nights and weekends for your initial consultation.
Mr. Green handles all manner of family law and divorce cases and all legal issues that may arise in connection with such matters. Mr. Green makes sure that his client's legal position is known, heard by the opposing party and considered by the Court. While he strives for amicable results and settlement, he is always prepared to fight for his client if the opposing side is unreasonable. Often times, this position leads to the retreat of his adversary and toward the amicable results desired in the first place.
Mr. Green was voted by his peers as a New Jersey " Super Lawyer" in 2006, see below for more information on this designation. It was also noted in a complex litigation matter that Mr. Green and his co-counsel did "superior work" and were also "well qualified, experienced, collegial, and vigorous" in their representation.
Experience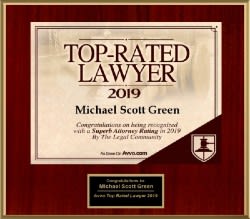 In connection with complex civil litigations he has handled, Mr. Green has appeared on NBC News with Asa Aarons and Fox News in New York City, ABC News in Chicago, Fox News in Atlanta and NBC News in Baltimore. He has also been quoted in several articles in the Star Ledger, New Jersey's largest newspaper.
Mr. Green has litigated as lead counsel in complex litigation that have generated multi-million dollar settlements for consumers nationwide.
During the settlement of a recent nationwide complex litigation matter in Monmouth County, New Jersey in which Mr. Green was lead counsel, it was noted that lead counsel was "well qualified," "experienced," " collegial" and "vigorous"; adequacy of representation was found, and it was noted that, "Adequacy...only because that's the standard. The reality here is that it was superior work."
The following are some of the corporate defendants in the complex litigation cases where Mr. Green has served as lead counsel: Toshiba, AT&T, Panasonic, Symantec, Best Buy, Fujifilm, Hewlett-Packard, Sony.
"Don't just settle for any attorney. I will work diligently to reach a positive solution for you and your family."
Only 5 Percent of All New Jersey Attorneys in More than 60 Areas of Practice Are Named New Jersey Super Lawyers.
Michael S. Green, Esq. received the honor of being named a "New Jersey Super Lawyer" Rising Star in 2006 the second year that the coveted distinction was awarded in New Jersey. Mr. Green was named one of the Top Young Lawyers in New Jersey. Only 2.5% of New Jersey Attorneys were selected as Rising Stars and received the award in this category for that year.

The publishers of Law & Politics and New Jersey Monthly mail more than 35,000 ballots each year to attorneys across New Jersey who have been licensed for five years or more. Law & Politics asked the attorneys to vote for the best lawyers they had personally observed in action. The intent was to discourage lawyers from voting for others based purely on reputation. Each lawyer was given a score based on the number and type of votes received. Votes received from lawyers in other firms were awarded significantly more points than votes received from lawyers in the same firm.
---
Divorce Client Testimonials
Excellent! I would highly recommend Mr. Green. He always provided excellent counsel and was extremely responsive. I was able to reach him on weekends and in the evenings which was extremely important to me as a single working parent.
KAREN M.
---
Very helpful. Very efficient. Very fast. They, Mr. Green and his paralegal Margaret, always answered the phone for me.
CHRISTINA F.
---
Very fair treatment in keeping track of time and billing. Advised me clearly on a lot of complicated situations. He was good!
ROBERT G.
---
You fought so hard for me, tenacious is the word, no matter what came our way, and you made sure I had a fair settlement and understood everything! I can never forget how you were a great ear and listened so well. Thanks again!
ANN M.
---
Education
Education
B.A. - Brandeis University (Biology and Political Science, Cum Laude with High Honors)

J.D. - Hofstra University Law School with scholarship
Bar Admissions
District Court for the District of New Jersey

United States Court of Appeals for the Third Circuit

United States Court of Federal Claims (Vaccine Court)

United States Supreme Court
Awards
Michael S. Green Voted New Jersey Super Lawyer in 2006